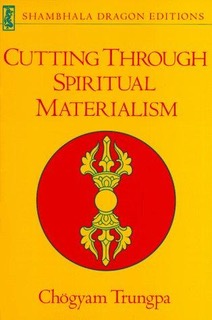 Dharma Study - Cutting Through Spiritual Materialism
Cutting Through Spiritual Materialism by Shambhala's founder Chogyam Trungpa, Rinpoche: Book Study class
Open to all; Drop-in group so no registration is necessary; full schedule is below
Beginning August 4, and alternate Sundays after that, the Portland Shambhala Center will be hosting a book study group on Trungpa Rinpoche's landmark book: Cutting Through Spiritual Materialism. Beginning with the introduction, we will be going through the book chapter by chapter, with facilitation by one of our center teachers.
The book gives a thorough and profound overview of the Buddhist path, including Hinayana, Mahayana, and Vajrayana teachings, presented by a groundbreaking Tibetan teacher and meditation master who came to the West to fulfill his aspiration to present the Buddhadharma in a manner accessible to the Western student.
The study group will follow the Sunday morning practice session (10:00 – 11:00 am), after a short break, from 11:15 am – 12:15 pm. There is no cost, though donations are encouraged. While consistent attendance is preferable, drop-in participation is also welcome.
Our next meeting on February 16th will be a discussion of the Heart Sutra chant. Here are two talks by Chogyam Trungpa Rinpoche that you may find valuable in preparation for the meeting:
Chogyam Trungpa Rinpoche - Sutra: What the Buddha Taught (22 min.)
Chogyam Trungpa Rinpoche - Shunyata: Emptiness (30 min.)
Please register if you'd like to keep up with the class.
The book will soon be available at the PSC bookstore.
Please join us! All students, practiced and new alike, are welcome!
Here's the 2019-2020 weekly schedule:
8/4: Forward and Introduction
8/18: Ch. 1: Spiritual Materialism
9/1: Ch. 2: Surrendering
9/15: Ch. 3: The Guru
9/29: Ch. 4: Initiation
10/13: Ch. 5: Self-Deception
11/17: Ch. 6: The Hard Way
12/1: Ch. 7: The Open Way
12/22: Ch. 8: Sense of Humor
1/05: Ch. 9: Development of Ego
1/12: Ch. 10: The Six Realms
1/19: Ch. 11: The Four Noble Truths
2/2: Ch. 12: The Bodhisattva Path
2/16: Discussion of Heart Sutra chant
3/1: Ch. 13: Shunyata
3/8: Ch. 14: Prajna and Compassion
3/15: Ch. 15: Tantra