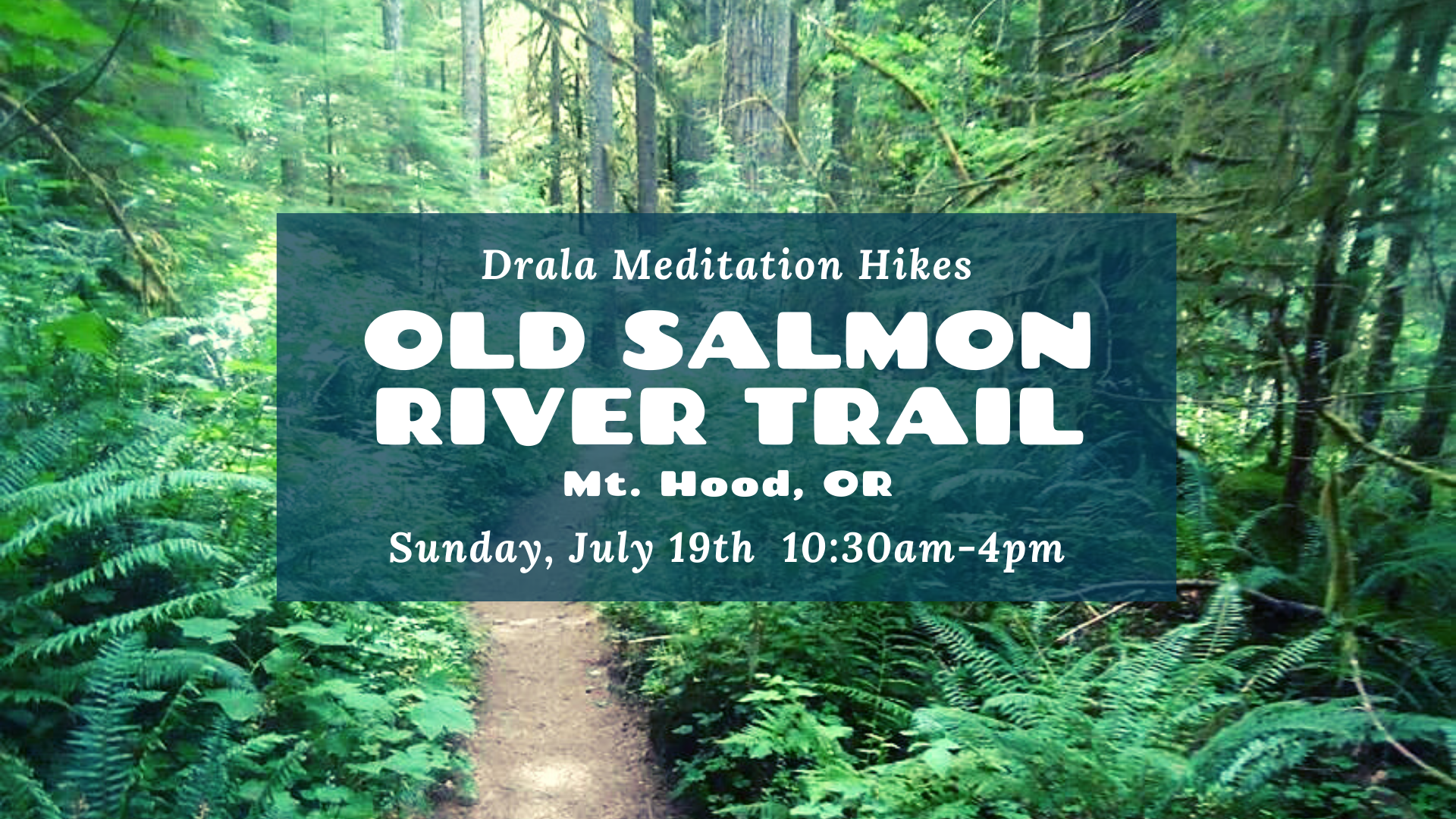 Drala Meditation Hike: Old Salmon River Trail
Join us for a Drala Hike in old growth forest up on Mt. Hood on a relatively flat and easy trail that hugs the Salmon River. We'll combine hiking with meditation while observing noble silence and safe distancing.
Hiking Difficulty: Relatively easy
Distance: 5 miles round trip
Elevation: 450 foot elevation gain
Hike Leader: Liz Howell
What to Bring:
Appropriate footwear, a face covering, water, lunch and a kneeling pad or something else to sit on for occasional stops for sitting meditation. Also suggested depending on personal hiking preferences and weather: hiking poles, a hat, sunscreen, rain gear.

Meeting Time: 10:30 AM
Driving Time from Portland: About 1 hr
Meeting Location: Old Salmon River Trailhead A. This is the first trailhead, closest to the Highway (NOT the trailhead further down by the bridge where Salmon River Trail begins)
Driving Directions: Drive Highway 26 east through Sandy. From the last traffic light in Sandy, drive 16.8 miles to Zigzag, and turn right onto E. Salmon River Road.
Drive 2.7 miles on Salmon River Road and pull off to the right at the first trailhead for the Old Salmon River Trail, marked on the map as Trailhead A.
Drala hikes are open to the public. No dogs, please - For questions about this or other things, please contact Liz Howell, Drala Hike Coordinator: [email protected]
Registration
As required by Multnomah county, people attending gatherings in person must register to allow for contact tracing in the event that any one of us tests positive for COVID-19 in the future. Additionally, registering online helps avoid the pen and paper contact involved in filing out emergency contact and release forms in person. When you register (below), you will be asked to list an emergency contact's name and number and it will also ask you to check a box indicating that you consent to to this release form (releasing Shambhala from liability).
"By relaxing the mind, you can reconnect with that primordial, original ground, which is completely pure and simple. Out of that, through the medium of your perceptions, you can discover magic, or drala."
~Chogyam Trungpa Rinpoche
If you are inspired to make a donation to the Portland Shambhala Center to help us offset the costs of closure you may give to the General Fund here:

Photo courtesy of Oregon Wild.