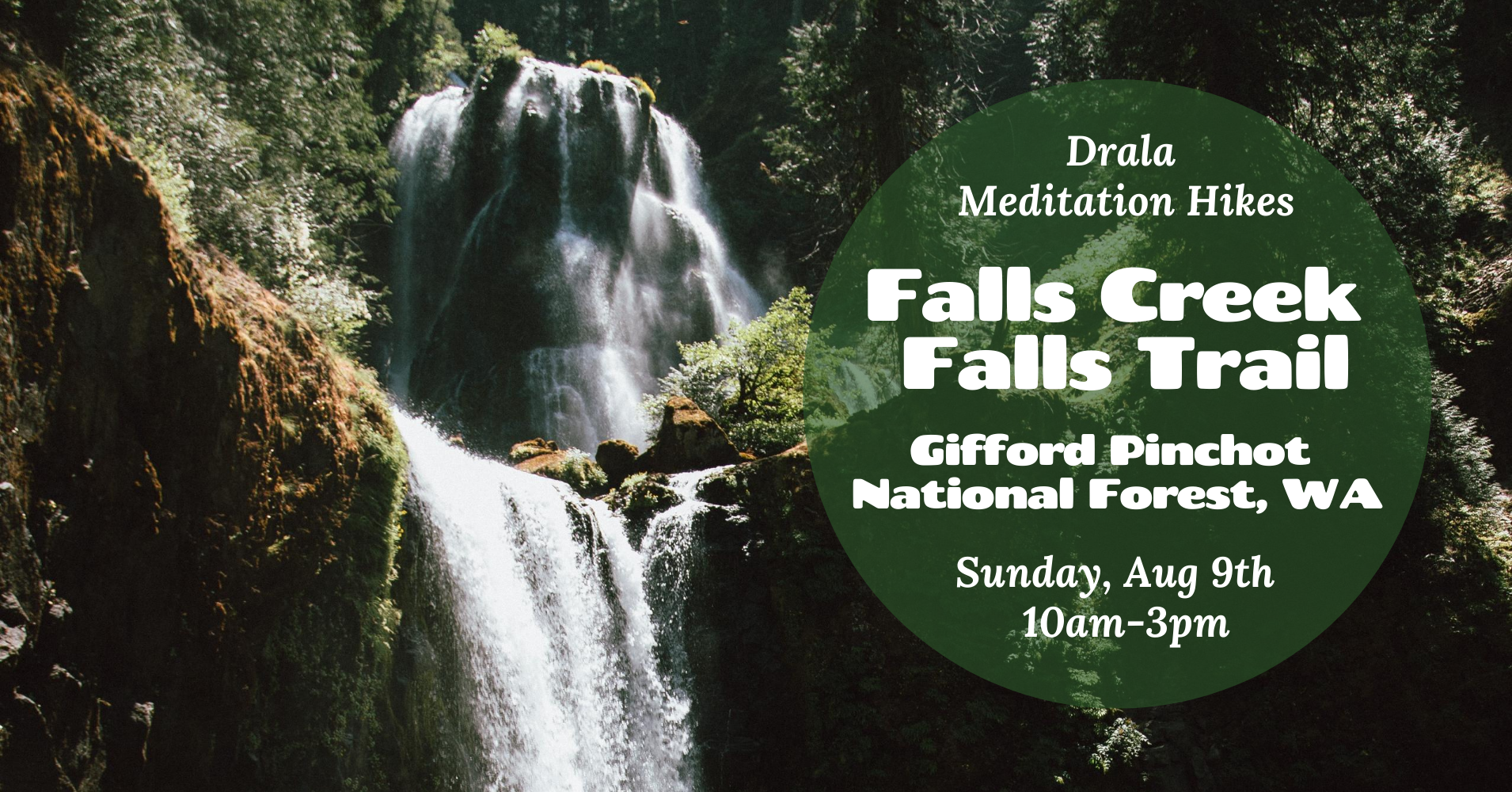 Drala Meditation Hike: Falls Creek Falls Trail
Join us for a Drala Hike in the Gifford Pinchot National Forest. This trail follows Falls Creek, climbing through a 30-60 year old forest for about 1 1/2 miles. A cable suspension bridge spans a rock gorge providing spectacular views of the white water of Falls Creek. We'll combine hiking with meditation while observing noble silence.
Hiking Difficulty:
Relatively easy/Moderate. Path narrows at certain points with steep fall offs requiring sure-footed steps. The hike is about 3.4 miles round trip with a 700 foot elevation gain.
What to Bring:
Bring water, lunch, face covering, hiking clothes appropriate for August forest weather, and a kneeling pad or something else to sit on for occasional stops for sitting or meditation.
Meeting Time: 10:00 AM
Meeting Location: Falls Creek Falls Trailhead
Return Time: About 3:00 PM. Drive to/from the trailhead is about 1.5 hour each way
Driving Directions: https://www.oregonhikers.org/field_guide/Falls_Creek_Falls_Lower_Trailhead
Hike Leader: Liz Howell
Registration
Due to Covid-19, registration required for all drala hikes. When you register (below), you will be asked to list an emergency contact's name and number and it will also ask you to check a box indicating that you consent to to this release form (releasing Shambhala from liability). Registration closes 24 hours prior to hike. For late registration, contact the Drala Hike Leader directly.
Drala hikes are open to the public. No dogs, please - For questions about this or other things, please contact Liz Howell, Drala Hike Coordinator.
"By relaxing the mind, you can reconnect with that primordial, original ground, which is completely pure and simple. Out of that, through the medium of your perceptions, you can discover magic, or drala."
~Chogyam Trungpa Rinpoche
If you are inspired to make a donation to the Portland Shambhala Center to help us offset the costs of closure you may give to the General Fund here: