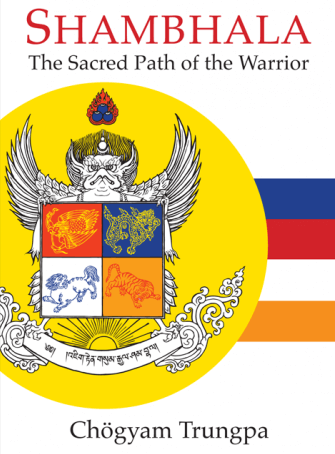 Dharma Study: Sacred Path of the Warrior
Please join us! All students, practiced and new alike, are welcome! This is a drop-in group so no registration is necessary.
The Portland Shambhala Center's Online Dharma Study group is currently reading Shambhala: The Sacred Path of the Warrior by Shambhala's founder Chogyam Trungpa Rinpoche. We are going through the book chapter by chapter, with facilitation by one of our center teachers. The group meets alternate Sundays.
There is a basic human wisdom that can help solve the world's problems. It doesn't belong to any one culture or region or religious tradition—though it can be found in many of them throughout history. It's what Chögyam Trungpa called the sacred path of the warrior. The sacred warrior conquers the world not through violence or aggression, but through gentleness, courage, and self-knowledge. The warrior discovers the basic goodness of human life and radiates that goodness out into the world for the peace and sanity of others. That's what the Shambhala teachings are all about, and this is the book that has been presenting them to a wide and appreciative audience for more than twenty years.
Please Note: Until Portland Shambhala finds a new physical home, our center bookstore is temporarily unavailable.

Zoom Meeting ID: 817 700 397 | Passcode: 108

Or, call one of these numbers (include the commas and pound sign):
+16699009128,,817700397# US (San Jose)
+13462487799,,817700397# US (Houston)
Or, Dial by your location and enter this meeting ID: 817 700 397
+1 669 900 9128 US (San Jose)
+1 346 248 7799 US (Houston)


2020 & 2021 Weekly Schedule
PART III: Authentic Presence
12/6: Chapter 19: The Universal Monarch
12/20: Chapter 20, first half: Authentic Presence (pp. 159-165)
1/3: Chapter 20, middle: Authentic Presence (p. 166 to ?)
1/17: Chapter 20, end: The Dignity of Inscrutable
2/7: Chapter 21: The Shambhala Lineage
If you are inspired to make a donation to the Portland Shambhala Center
to help us offset the costs of closure you may give to the General Fund here: