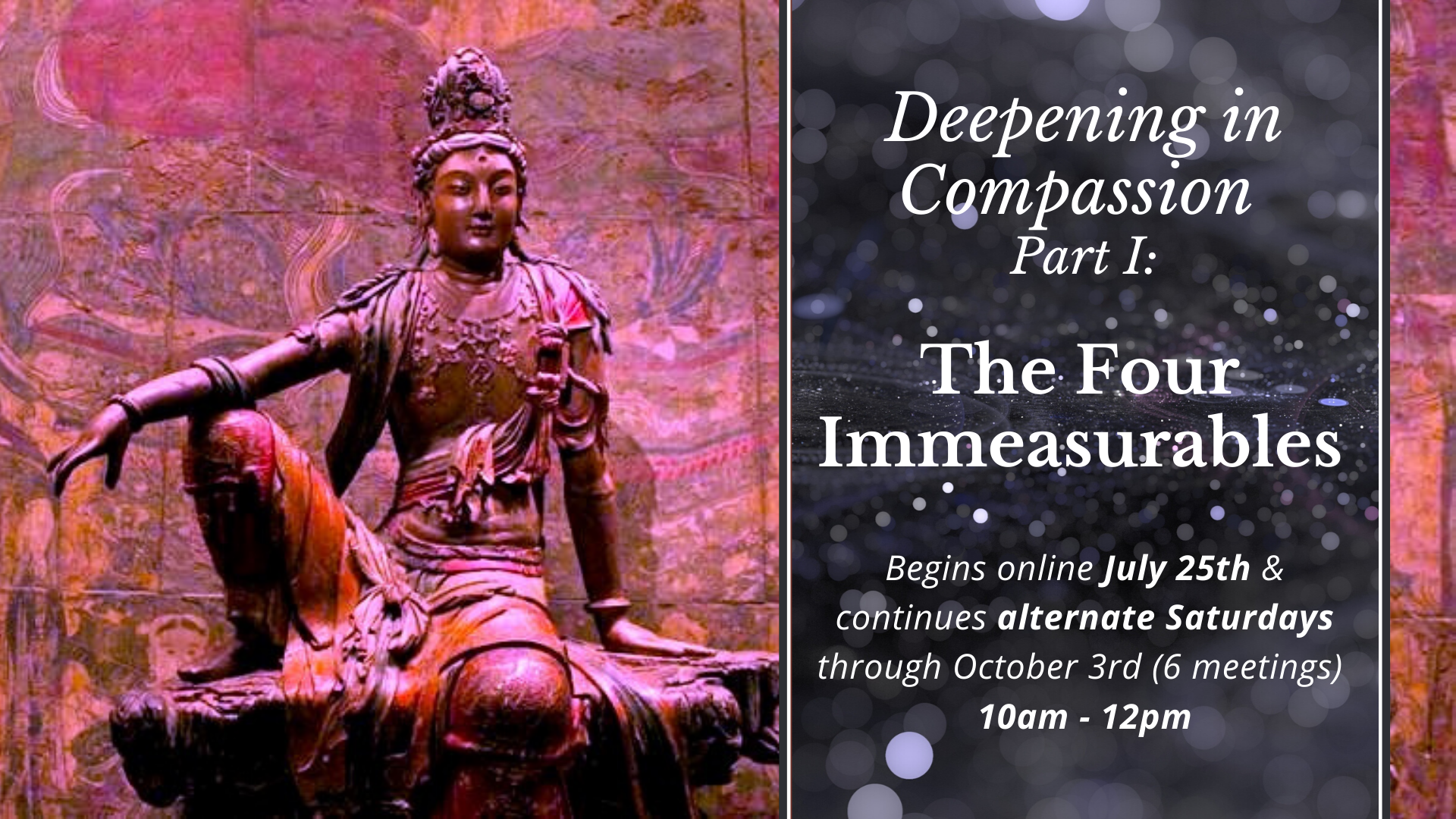 Deepening in Compassion Part I: The Four Immeasurables ONLINE
Deepening in Compassion was originally taught by different Acharyas and will be offered in a series of recorded talks. The class will be facilitated by local teachers.

The path of the Bodhisattva Warrior begins with developing affection for ourselves and expands this to others, dissolving the barriers that divide us. Learn from senior teachers - our Shambhala Acharyas - as they lead us through a series of talks, contemplations and meditation practices from the Buddhist Mahayana teachings of our lineage.
The main practice throughout is tonglen, taught by Ani Pema Chodron - a link to her guided meditation and an audio talk will be posted on the homepage for the course. Additionally, talks by acharyas will introduce and support other practices of the Mahayana. All talks will be followed by discussions facilitated by local teachers.
The teachings are divided into four seasonal themes which echo the virtues of the Four Dignities of the Shambhala Path.
Part 1: Tiger, friendly to self and merciful to others: The Four Immeasurables
Part 2: Lion, joy of discipline: The Six Paramitas
Part 3: Garuda, space beyond hope and fear: Heart Sutra and Sunyata
Part 4: Dragon, compassionate engagement: Lojong, mind training
The series will provide access to:
Recorded classes with Acharyas

Readings and book suggestions to deepen our understanding of these teachings


Contemplations to help us integrate these fundamental teachings into our daily lives
The Four Immeasurables is the first course of the four-part series exploring the Shambhala Mahayana teachings. This course includes an in-depth exploration of The Four Imeasurables - equanimity, loving kindness, compassion and sympathetic joy - as well as an audio talk by Acharya Pema Chodron giving Tonglen instruction.
Course Schedule (Alternate Saturdays 10am-12pm)
July 25 - Shamatha and Maitri: Establishing the Foundations for our Mahayana Journey with Acharya Susan Chapman
August 8 - Equanimity with Acharya Eve Rosenthal
August 22 - Loving Kindness with Acharya Fleet Maull
September 5 - Compassion with Acharya Dale Asrael
September 19 - Discussions
October 3 - Sympathetic Joy and Course Conclusion with Acharya Dan Hessey


Price: Supporting: $50; Patron: $108; My Offering: Offer what works for you!
We are offering a tiered pricing system in order to encourage all program participants to offer the most generous amount according to their situation. The supporting price reflects our actual costs for putting on programs. Our Patron Price invites generosity from those who are able to offer more, in support of all to attend. Lastly, My Offering - Offer what works for you. Our center is committed to offering meditation practice and programs regardless of what one can pay - no one is turned away for lack of funds. For questions, contact Laura at [email protected].