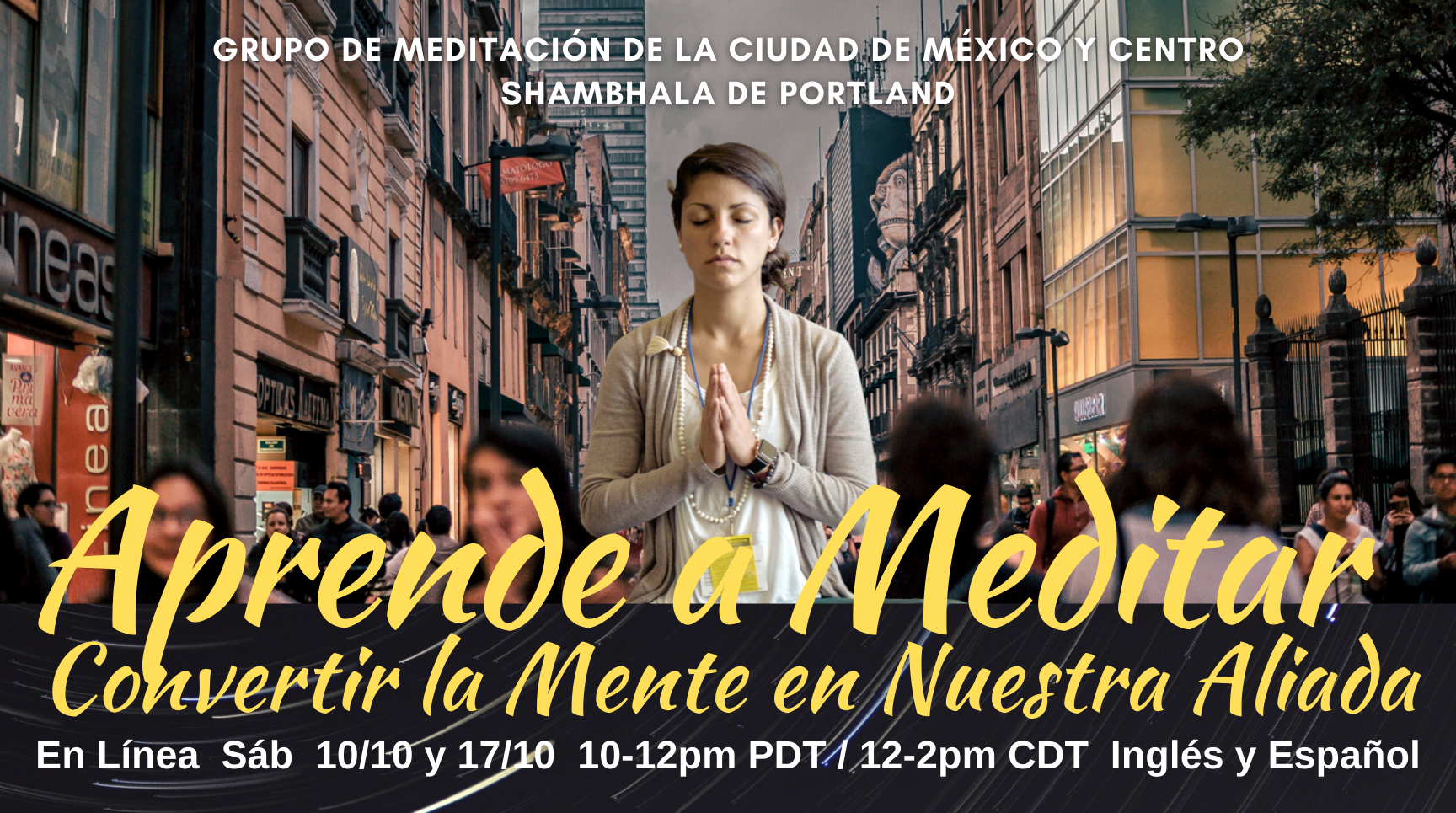 Learn to Meditate (Aprende a Meditar) ONLINE
This course is taught online via Zoom over the course of two Saturdays.
A bilingual, bi-cultural partnership of the Shambhala Meditation Group of Mexico City, Mexico; and the Shambhala Meditation Center of Portland, Oregon, USA.

"I teach one thing and one thing only: suffering and the end of suffering." -Buddha, Deer Park Sermon
Over 2500 years ago Shakyamuni Buddha began teaching meditation as part of a path leading to liberation from suffering, a path followed by generations of practitioners ever since. Recent events have once more brought to the fore how racism and white supremacy create suffering, both for the oppressed and the oppressor. A regular meditation practice can help us keep our balance and relate accurately and effectively to our world.
Meditation is a natural state of the human mind - at rest, open, alert. This ancient practice of self-discovery is rooted in the simple but revolutionary premise that every human being has the ability to cultivate the mind's inherent stability, clarity and strength in order to discern and undo patterns of harmful belief and behavior, to awaken compassion, and to relate to the world's suffering in a genuine and beneficial way. Through discipline, gentleness, and a sense of humor, the practitioner is invited to let go of conflicting emotions and wake up on the spot.
The Learn to Meditate Workshop offers an introduction to meditation, as well as an opportunity for both beginning and experienced practitioners to refresh their practice, connect with others, and receive individualized instruction and feedback. The workshop includes practical instructions for developing a strong meditation practice: good sitting posture, how to relate with the breath as the object of meditation, what to do when thoughts come up, and starting a regular home meditation practice.
This workshop will take place online in two consecutive Saturday sessions - October 10th and 17th, 10am-12pm PDT / 12pm-2pm CDT - with opportunity to interact with instructors during the week in between. It will be taught in English and Spanish, and is free to those whose primary language is Spanish or who identify culturally as Latino/a/x.

The Zoom link for this program will be provided to registrants.
Price: Free to those whose primary language is Spanish or who identify culturally as Latino/a/x. Supporting: $35; Patron: $45; My Offering: Offer what works for you!

We are offering a tiered pricing system in order to encourage all program participants to offer the most generous amount according to their situation.
Patron: This tuition level invites generosity from those who are able to offer more, allowing us to offer programs to all.
Supporting: This tuition level covers our actual operating costs.
My offering: This option allows you to offer what works for your situation, in keeping with our commitment to offer meditation practice and programs regardless of ability to pay. Please consider the value of the program and practice generosity at the level appropriate to your circumstances. For questions, contact our office at [email protected].
---
Grupo de Meditación de la Ciudad de México y Centro Shambhala de Portland
"Solo enseño una cosa: el sufrimiento y el fin del sufrimiento."
-Buda: Deer Park Sermon
Hace más de 2500 años Buda Shakyamuni empezó a enseñar meditación como parte del camino hacia la liberación del sufrimiento; un camino que muchas generaciones de practicantes han seguido desde entonces. Los eventos recientes nos han mostrado una vez más como el racismo y la supremacía blanca crean sufrimiento, tanto para el oprimido como para el opresor. Meditar con regularidad puede ayudar a mantenernos equilibrados y a relacionarnos con el mundo de manera efectiva, certera y cuidadosa.
El taller Aprende a Meditar es una introducción a la meditación y brinda la oportunidad de refrescar la práctica a meditadores con experiencia, además de ofrecer a todos la oportunidad de conectar con los demás y recibir instrucción individual y retroalimentación.
Sábados 10/10 y 17/10 10-12pm PDT / 12-2 CDT

E impartirá en línea, en inglés y español

Donativo: GRATIS para aquellos cuya lengua materna es el español y/o aquellos que se identifican culturalmente como latino/a/x. 35usd/750 mxp (apoyar), 45usd/970 mxp (patrocinar), o Mi ofrenda (dona lo que puedas aportar)