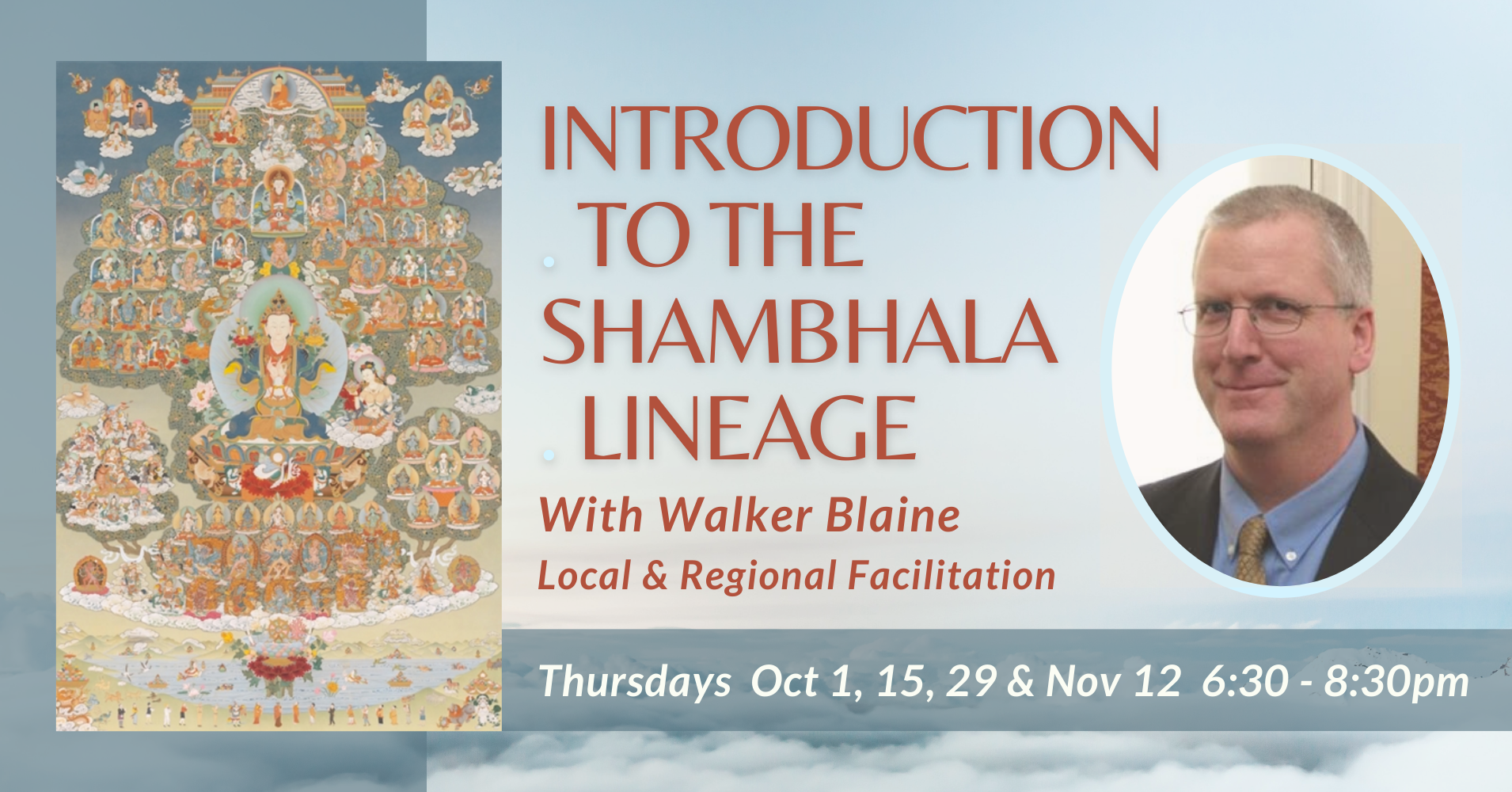 Introduction to Shambhala Lineage w Walker Blaine
Ann Cason will join Jenny Warwick, of Bellingham, Tom Gaylord in Seattle, and Ginny Evans in Vancouver as the local facilitator for a regional class, hosted by the Vancouver BC Center. The class on the Shambhala Lineage chants will be taught by Walker Blaine starting October 1st and going bi-weekly through November 12th. This class, which uses the Lineage Chant as an organizing principle, illuminates aspects of the chant that we have been chanting for years.
Although this class is introductory it will be of interest of people of any level of practice. It gives a view. For example, it tells how Dawa Sangpo, the first ruler of Shambhala goes to the Buddha, and asks, "Buddha, I want to be like you, but I can't give up my kingdom, isn't there a way that both myself and my people can get enlightened at the same time?" And the Buddha helps him out. The feeling of culture permeates the classes, from the meditation at the time of Shambhala of Tibet to the first presentation by Chögyam Trungpa in 1977 in Boulder, Colorado.
The first course, 'Meditation and Shambhala,' will outline how meditation is approached in the Shambhala teachings. Each course will consist of a short talk by Walker Blaine followed by longer discussion among participants through out the region as well as in smaller home center groups.
Walker Blaine has studied and practices in the Shambhala tradition for 35 years and, more recently, works with translating and caring for the texts and instructions of the Shambhala Buddhist tradition. He lives with his wife Patricia and their son in Halifax, Nova Scotia.
For more information contact Ann Cason at [email protected].
NOTE: The cost for the 4-class course is $30 CDN ($23 USD). Drop in price - $8 USD per class.
Proceeds for this event will be shared among the different regional centers.
Learn more & Register for this event through the Vancouver Shambhala website: https://vancouver.shambhala.org/program-details/?id=461211