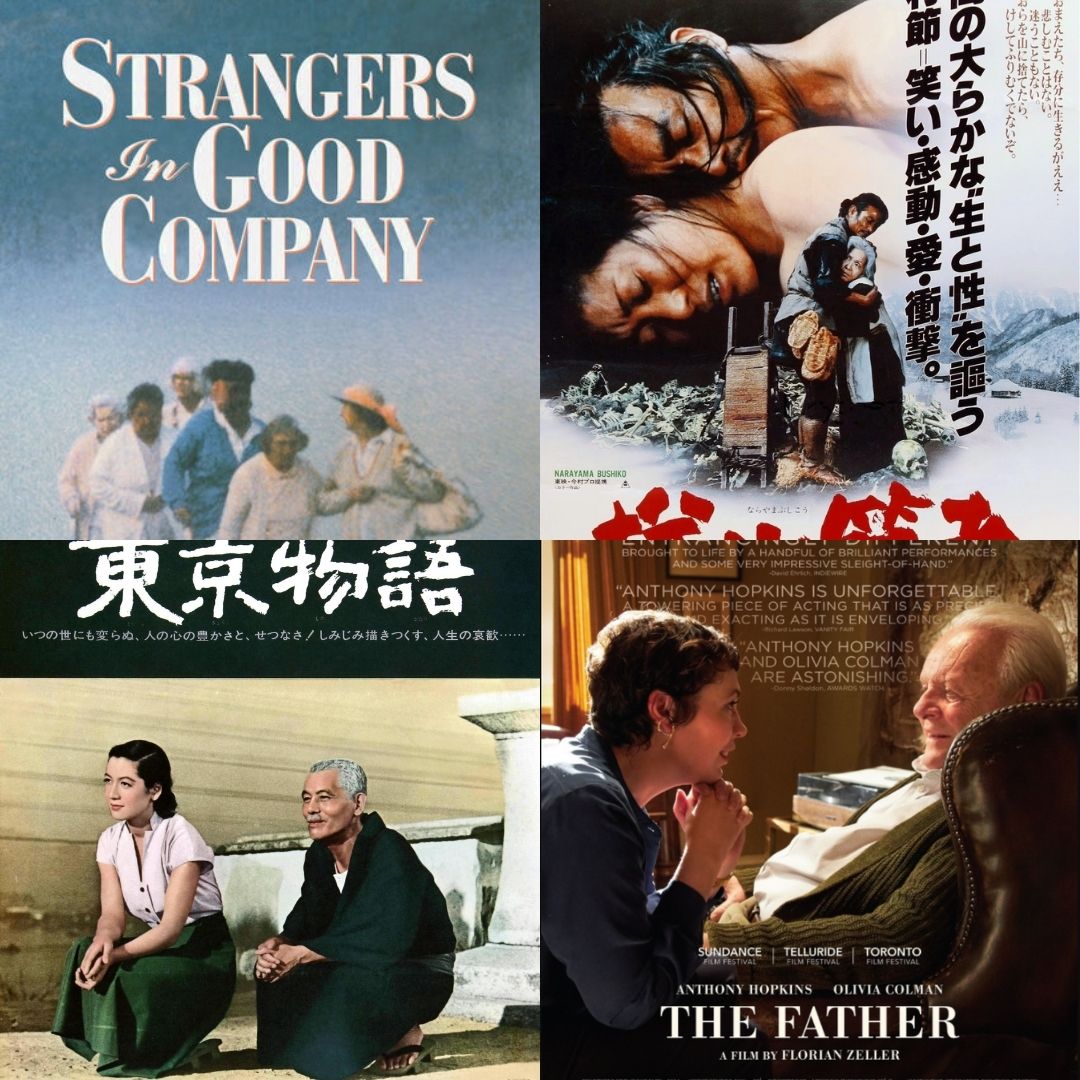 Aging Group - Movies About Aging
The Portland Aging group, Aging in Enlightened Society, is a social group for those who are experiencing aging – whether it be turning 40 or 70. This group meets twice a month on 1st & 3rd Mondays, from 3-4:30 PM.
The term 'aging' implies elders, and while that age group is certainly part of the focus, growing older is happening to each of us every day. Our purpose is to promote community, connection, and inspiration among people wanting to bring their life experiences onto the path of meditation and mindfulness.
Please contact the Aging Group Coordinator for more information or to be added to the Aging group email list for announcements of time and place for our meetings and other occasional announcements.
JUNE & JULY 2021: Movies About Aging

The Aging group has decided to watch & discuss movies about Aging in June & July. We will watch them on our own time, and then discuss what they brought up for us at our Zoom meetings on first and third Mondays. We recruited hosts for each movie, and the hosts will provide questions and prompts for discussion.
Please contact the Aging Group Coordinator to be added to the Aging group email list so that you receive these questions and prompts a few days before each meeting.
If you have not been attending our rich discussions, this would be a good opportunity to join us.
Here's the line-up:
June 7: Host: Annie Popkin. Strangers in Good Company (1990) available on Fandor through Amazon Video and through Kanopy, a free streaming service from Multnomah County Library and many other libraries. In this film by Academy Award winner Cynthia Scott, seven old women become stranded at a deserted farmhouse miles from civilization. They don't have much food, or a decent place to sleep, or much in common. But these surprising, remarkable women turn a crisis into a magical time of humor and spirit.
June 21: Host: Richard Parker. The Ballad of Narayama (1983), directed by Shôhei Imamura and available from Amazon ($6) and YouTube ($3). This film won the Palme d'Or at the 1983 Cannes Film Festival. In a poor 19th century rural Japanese village, where food is scarce, life is harsh and people are desperate and cruel, everyone who reaches the age of 70 has to climb a nearby mountain to die. An old woman is getting close to the cut-off age, and we follow her last days with her family.
July 5: Host: Dan Prock. Tokyo Story (1953) available on Kanopy (free) and YouTube ($3). A masterpiece from Yasujiro Ozu. On many short lists of the best movies of all time. An old couple visit their children and grandchildren in the city, but receive little attention. Reviewed with clips in a 3 minute video here.
July 19: Host: Marian Christensen. The Father (2020) available on Amazon ($6) and Google Play ($6). Outstanding performances by Anthony Hopkins (age 80), the dementia-stricken protagonist living defiantly alone and refusing help arranged by his daughter, Anne (Olivia Colman). We participate in his confusion as he tries to make sense of his changing reality.

Zoom Meeting ID: 374 118 542 | Passcode: 108

To join by phone audio only dial
253 215 8782 US (Washington)
Passcode: 108

Call or email the Aging Group Coordinator if you have technical questions.
If you are inspired to make a donation to the Portland Shambhala Center to help us offset the costs of closure you may give to the General Fund here: