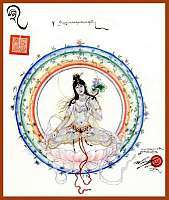 White Tara Practice w/Senior Teacher Rayna Jacobson
White Tara Practice - Every Third Tuesday, 8 pm

Around the world, and in our community, the feminine principle is coming forward and taking a prominent place. In the history of Buddhism, there have been many accomplished women practitioners, and many practices devoted to developing feminine qualities. White Tara is one of these practices.

Tara is a tantric deity, a key figure of Vajrayana Buddhism. It is said that she was born from a tear of Avalokiteshvara, the bodhisattva of compassion. Her name means "protectress." There are various forms of Tara, among them red, green, and white, all associated with particular inner qualities. White Tara is especially connected with compassion and healing.

In 2004, Sakyong Mipham Rinpoche composed a short White Tara practice, available to any practitioner. He states that "it could be helpful for people who are not well, who are traveling a lot, or who are having general difficulties focusing or connection." Since she is especially associated with health, "it is for anyone who needs to be soothed." This is a Vajrayana practice, involving visualization and mantra recitation. Some experience with meditation is recommended.

Every third Tuesday, following sitting from 7 - 8 pm, we will do this practice together as a group. If you have not done the practice before, please arrive by 7:30 pm for a necessary introduction and instruction. If you have taken the Refuge Vow, you will be able to do the practice on your own. If not, you are welcome to join the monthly group practice.
On February 18, 2020, there will be a short discussion about the practice led by Rayna Jacobson and Gardner Murphy, from 8:30 to 9:00 p.m. You are welcome to join us for any portion of the evening!
For any questions, please contact Rayna Jacobson at: [email protected]