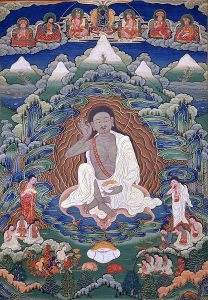 Rain of Wisdom Practice - Milarepa Day at KCC
Lama Eric Triebelhorn, who recently become the resident Lama at Kagyu Changchub Chuling (KCC: https://kcc.org, 4936 NE Skidmore), invited us to join KCC on Saturday, March 7th, (approximate time is 9am-6pm) along with other Portland Kagyu practitioners.
The Kagyu and Nyingma lineages are the ground from which the Shambhala teachings arose. The realization songs of the Kagyu gurus are collected in The Rain of Wisdom, a book translated by the Vidyadhara Chögyam Trungpa and the Nalanda Translation Committee. The entire book is chanted as a joyous energetic group practice on Milarepa Day, on the 14th Day of the first Lunar Month. We missed holding this practice the past two years but have been invited to join with other Kagyu and Nyingma Buddhists to celebrate these songs of wisdom.
After consideration, and enthusiastic support from the Directors and Rayna for our community to join this celebration of our joint heritage, Misha and Eric would like to invite you to join us at KCC.
These Kagyu communities are our close lineage sisters and brothers,
Several of our members enjoy "dual citizenship" as both Shambhala and Kagyu practitioners,
A larger gathering will rouse more lungta and blessings than a small group,
Reaching out to neighboring spiritual communities strengthens the "we" to share knowledge, increases resiliency, and potential for change. And we can make friends!
Some may feel disappointed we are not scheduling this event at our center. Please share comments and feelings about our decision with Eric (for both Eric and Misha) at [email protected].
As they become available we'll post updated schedule details and inform you if we can fill rota slots as Umdzes, Chai servers, etc.