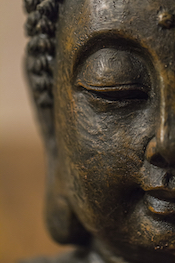 Bodhisattva Study Group ONLINE
The Bodhisattva Study Group is open to all students of the dharma who are interested in deepening their understanding of the Bodhisattva path.
In January of 2020, the Bodhisattva Study Group began studying and discussing Buddha Nature: The Mahayana Uttaratantra Shastra. All are welcome to join in.
The group meets on the second and fourth Mondays of each month, from 7:15 until 8:45pm, online via Zoom. New and returning participants are welcome, and new participants may join at any time during the year. Please contact the group coordinator, Bill Kimbro, to learn more about current texts, and to join the group.
The Bodhisattva Study Group is led by Ray Sten, who has studied with a number of masters of the Nyingma and Kagyu lineages. Ray is a student of Mindrolling Jetsun Khandro Rinpoche.
From the back cover of Buddha Nature:
"All sentient beings, without exception, have buddha nature—the inherent purity and perfection of the mind, untouched by changing mental states. Thus there is neither any reason for conceit nor self-contempt. This is obscured by veils that are removable and do not touch the inherent purity and perfection of the nature of mind.
"The Mahayana Uttaratrantra Shastra, one of the 'Five Treatises' said to have been dictated to Asanga by the Bodhisattva Maitreya, presents the Buddha's definitive teachings on how we should understand this ground of enlightenment and clarifies the nature and qualities of buddhahood. This seminal text details with great clarity the view that forms the basis for Vajrayana, and especially Mahamudra practice."



Zoom Meeting ID: 817 700 397 | Passcode: 108
Or, call one of these numbers (include the commas and pound sign):
+16699009128,,817700397# US (San Jose)
+13462487799,,817700397# US (Houston)
Or, Dial by your location and enter this meeting ID: 817 700 397
+1 669 900 9128 US (San Jose)
+1 346 248 7799 US (Houston)


If you are inspired to make a donation to the Portland Shambhala Center
to help us offset the costs of closure you may give to the General Fund here: